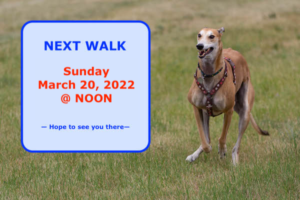 Spring Walk
Hello Everyone!
We can't believe it has been 5 months since we have had an opportunity to gather as a group and walk our beautiful hounds together. Here we are though. Our last get together was for Halloween 2021!
It was a lot of fun – thanks to all those who attended. There were a lot of very creative costumes (for some humans too)… including ghosts, witches, princesses, dinosaurs and an Egyptian mummy!
How about we celebrate the spring equinox by meeting to walk with our hounds and enjoy the first day of the new season?
We will meet in North Glenmore Park at NOON on March 20, 2022. Look for the group in Lot F.
No masks are required now but of course feel free to wear yours if needed or wanted.
Hope to see you there!