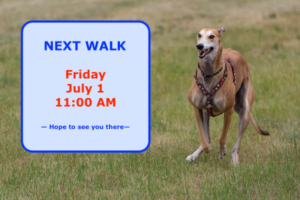 Canada Day Walk
Hello Everyone!
Our Mother's Day walk in Confederation Park NW was a wonderful gathering of new and familiar faces. Lovely to meet Atlas and to catch up with the Cochrane contingent Jimmy, Byron and Arch again!
The spring day was perfect!
The forecast indicates of possibility of rain in the afternoon on Canada Day, but hopefully we can enjoy a group hound-walk before that happens.

We will head to the south end of the city this time and meet in South Glenmore Park.
There is plenty of parking in the lot just north of 90th Avenue on 24th Street SW.
Please join us for a walk as well as some human and hound treats afterwards.
See you there!
---
DATE & TIME:
Friday, July 1, 2022 @ 11:00 AM
LOCATION:
South Glenmore Park (SW)
Parking near the Glenmore Sailing Club
APPLE MAPS:
https://maps.apple.com/?ll=50.974025,-114.120245&q=Dropped%20Pin&_ext=EiYpSiL7ESF8SUAxNqUG5NyIXMA5Jhx6i4d9SUBB2wDRCW2HXMBQAw%3D%3D&t=h
GOOGLE MAPS:
https://goo.gl/maps/75EJCRTvzGtk1h9U6
DETAILS:
Paved and/or grass. Flat paths throughout.
NOTE:
ALL HOUNDS AND THEIR PEEPS CAN ENJOY THIS WALK.