First off we want to thank the incredibly talented Furry Friends Pet Photography https://www.furryfriendsphotography.com/  for these absolutely beautiful images. We also want to thank our amazing vets over at RAPS Animal Hospital and the 48th Avenue Pet Hospital for taking such good care of our boy. NCGL Has always been 100% committed to giving our wonderful dogs the best chance at a happy life with their new families and sometimes that unfortunately comes at a high cost.
It's no secret that we've taken in some absolutely fabulous dogs lately, but a lot of those dogs have required some very special care. Kipur is one of those wonderful dogs. Kipur was destined to arrive in Billings, MT and head home with our Alberta chapter back in October – unfortunately along the way he re-broke his leg and the Alberta Chapter wasn't comfortable with having him do the very long trip to Calgary in a snowstorm. They contacted our amazing BC folks and made them aware of this sweet boy heading their way with the rest of the dogs and they agreed to take him in! The amazing folks over at Regional Animal Protection Society (RAPS) agreed to take him in immediately and get him ready to surgery. (You can read all of his updates (newest first) below!)
Kipur will be heading in for what will hopefully be his last surgery on Wednesday, February 19th, 2020, we have already contributed $3900 + GST to his care with more bills plus this new surgery on the way. If you'd like to contribute towards Kipur's care there are a few ways to do so.
Through Paypal by clicking the Donate link
by eTransfer by clicking the Contact NCGL and selecting the Treasurer's email address.
by sending a cheque or money order payable to NCGL and mail to Treasurer ‪210 – 4745, 54A Street Delta, BC V4K 2Z9,
by purchasing our new 2020 Calendar or
by participating in our NCGL Fundraising Auction 2020 auction.
All donations over $20.00 will receive a tax-deductible donation receipt. We couldn't help awesome dogs like Kipur without the support this amazing Greyhound community. Thank you so much for your kindness and generosity!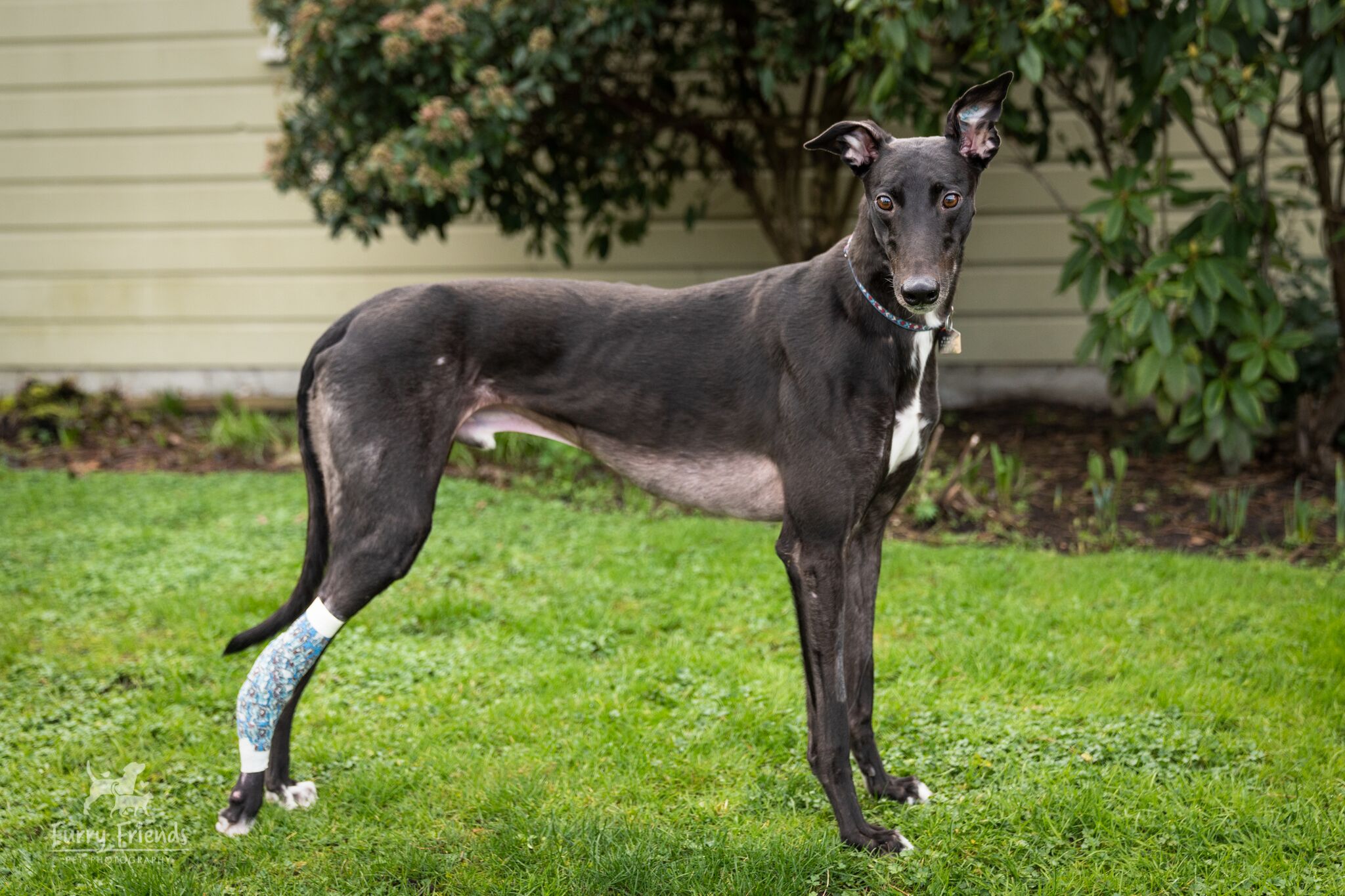 2020-03-05 Update
Yesterday, our special boy Kipur finally had his surgery, this definitely will be his last. Unable to combat the lingering bacterial infection, it was decided that the leg would have to be amputated. He did well during surgery and spent the night in hospital at RAPS to monitor his initial recovery hours.  As the staff returned to work he wagged a welcome to all who came to look in on him. Later in the morning he was up, walking around for a few minutes and then back to bed to snooze some more. He will return to his foster home tonight where he will join his foster sibling who has missed him during his 2-day absence!
We are saddened on one hand that his long journey has had this result, however, we are happy that he will not have to continue daily injections, the prodding of doctors and technicians on a weekly basis during bandage changes. Now he can heal and begin the next stage of his journey.
If you can donate towards Kipur's surgery bills, please contact NCGL treasurer@ncgl .ca
2020-03-02 Update
Once again Kipur's surgery has had to be postponed – that nasty bacterial infection will just not let go even with all of the antibiotics, monitoring the surgery site every three days and doing frequent bandage changes. The plate, screws and staples have all been removed. Kipur has begun another 7-10 day treatment of special antibiotics with even more scrutiny than before. On the 7th day he will have another procedure to ascertain if the infection has disappeared and if so he will undergo the Arthrodesis surgery as planned.
In the meantime, this brave guy has been outstanding through all of this medical nonsense, happily greeting all of the hospital staff, and besides a few vocal expressions of discomfort during the injections, has remained a happy, sweet boy through this whole ordeal. We will update his progress in a few days.
The next date set for surgery is Wednesday, March 4th, 2020. Fingers crossed that this will soon be over for Kipur!
What a lucky dog to get all this extra care by the folks at RAPS Animal Hospital. We would also like to thank 48th Animal Hospital for working alongside RAPS and providing their wonderful love and care along the way.
2020-02–03 Update
Kipur is now undergoing his 4th and, hopefully, final surgery. Although he has been progressing and healing well, there have been a number of significant complications. The lack of use of the leg for almost 6 months has resulted in a severe contracture of the Achilles tendon. The options are amputation of the leg or Pantarsal Arthrodesis (joint fusion). NCGL has opted for the latter and that is the surgery he is having today. Kipur will always have a degree of mechanical lameness even after successful achievement of the joint fusion. We are assured, however, that he will be able to walk and run once he has recovered completely. His leg will always be in a "standing position" even when he is not standing but as we all know, these Greyhounds usually roach with all four legs up in the air anyway!
2019-12-22 Update
Kipur's surgery had to be postponed due to the late arrival of synthetic bone material to be used in his surgery. Surgery took place on Friday, December 13th – fortunately no superstitions were present and the surgery and post hyperbaric oxygen treatment were successful. Kipur has been confined to his crate for the past 9 days and as his early Christmas present was released into the general household. His first stop was the couch, and a snooze! His healing is going well, and he is being a perfect patient, eating and taking all his medications without any complaints (loves the cheese wrapped offerings!). His very short business breaks outside have been met with enthusiasm and quick turnaround to return to his crate…..now at least he will have his favourite couch to enjoy for the rest of his healing time. Boxing Day Kipur will go for a bandage change, an inspection by the vet and another hyperbaric treatment. The vets estimate his recovery time will be around 6 weeks – and then Kipur will be available for adoption into his forever home.
2019-11-29 Update
Kipur is scheduled for his leg surgery on Thursday, December 5th – finally after 21 days of injections, bacterial inspection is all cleared up! On Tuesday, December 3rd, BCTV will do a segment on the hyperbaric chamber at RAPS … and guess who is the star? Kipur himself! This pre-surgical hyperbaric treatment will prepare and stimulate the body to increase tissue function and to stimulate the body to release stems cells that can promote healing. Then we will do a post-surgical hyperbaric treatment after the surgery. If you'd like to contribute towards Kipur's care there are a few ways to do so.
We couldn't help awesome dogs like Kipur without the support this amazing Greyhound community.